The Strategic Career Guide for Developers
I spent the last ten years doing software development work in various forms.
I've made all kinds of career mistakes and learned a lot of lessons.
Now I'm on a mission to share what I've learned and help software developers boost their careers.
Contents (coming soon)
Career Goals

Types of Developer Careers

Networking

Mentorship
I'll be posting chapters of the guide here as I publish them.
Subscribe below to get updates and find out when I post new content.
Subscribe and download my checklist for developers:
Overcoming Self-Doubt in your Career
You'll get my 3-page guide for dealing with Impostor Syndrome and self-doubt. Most developers are affected by this at some point in their career. Overcome it to move forward in your career as a developer.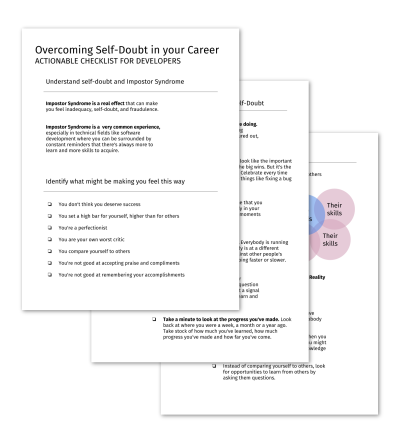 I keep your email private (no spam, ever) and you can unsubscribe at any time.